We're pleased to offer the following services at Ambassador Animal Hospital:
Canine and feline wellness, diagnostic and laboratory services, dentistry, surgery, and laser therapy. For more information on these services scroll down or click on the corresponding tab in the navigation menu.
Our appointment book is computerized, which allows us to efficiently make appointments for you and your pet. Our receptionists and team members will attempt to accommodate all requests to the best of our ability.
Types of Pets Seen: Dogs, cats, and chickens
Ambassador Animal Hospital offers discounted services to military personnel and rescue groups. Pre-approval is required to qualify for the rescue group discounts, please call us for more information.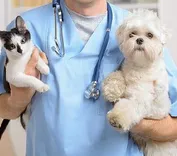 Canine and Feline Wellness
Our goal at Ambassador Animal Hospital is to provide you with the best veterinary care possible so that you and your pet can enjoy a long, healthy and happy life together. This is our commitment to you - to treat your pet as if it is one of our own. During the physical exam of your pet, we provide a complete assessment of it's overall health and well being.
Read More
Medical
While our goal is to provide preventative care and to keep your pet healthy, we realize that pets frequently become ill and need immediate and special attention. We have the appropriate training, pharmacy, and facilities necessary to provide the care that your pet deserves. If we feel that your pet would benefit from seeing a veterinary specialist, we will make sure that a referral is offered in a timely manner to the appropriate clinic. We also offer house calls if you feel that your pet would be more comfortable in their own environment. However, due to the uncertainty of COVID, we are not offering house calls at this time. We will hopefully return to offering this service sometime soon.
Read More
Diagnostic and Laboratory
Our state of the art in-house laboratory and digital x-ray services allow us to quickly and thoroughly assess your pet's health status, especially with our sick patients, when a quick turnaround time is critical.
Read More
Pet Dentistry
Oral care is important to your pet's overall well being and health. Dental disease can cause not only bad breath, but it can be painful and it can lead to heart, liver and kidney problems.
Read More
Our goal is to make sure that your pet is as comfortable as possible during their stay with us, especially during a stressful event such as surgery. We keep them in a quiet environment and they are constantly supervised before, during and after their surgery. We use the most up-to-date anesthetic and pain management protocols and every surgery has a dedicated nurse assigned to them.
Read More
Laser Therapy
We have a Class IV therapeutic laser that aids in the healing process by working at the cellular level. Laser therapy uses light energy to accelerate and promote the body's own natural healing processes. It is not painful and each session can be done in a matter of minutes. Laser therapy can reduce pain, improve mobility, and enhance your pet's quality of life.
Read More